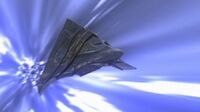 The Tel'tak are a class of Goa'uld light transports.
Specifications
Edit
Tel'tak are the smallest known Goa'uld ships to be equipped with hyperdrives. They have ring transporters for loading and unloading cargo and personnel. A few of them have cloaking devices and have been used for infiltration, most notably by the Tok'ra. While most are unarmed, at least one Tel'tak is equipped with staff cannons.
Ad blocker interference detected!
Wikia is a free-to-use site that makes money from advertising. We have a modified experience for viewers using ad blockers

Wikia is not accessible if you've made further modifications. Remove the custom ad blocker rule(s) and the page will load as expected.